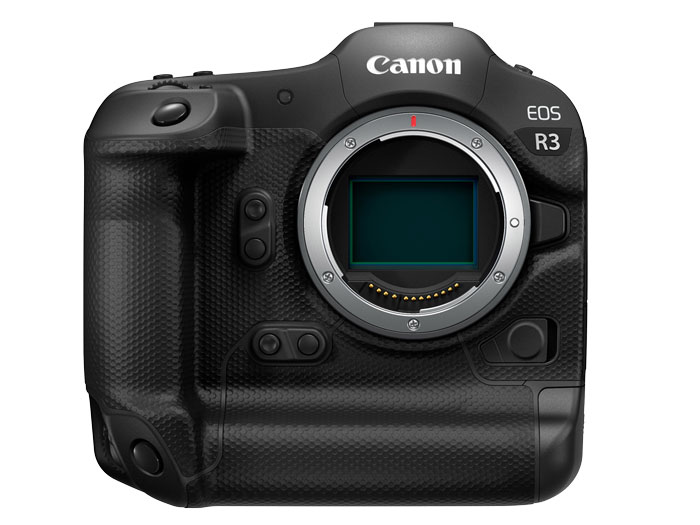 We all know Sony is a master of BSI Stacked CMOS sensor and for the first time Canon said in their Press release, They will use a full-frame stacked CMOS sensor with a back-illuminated design in Canon EOS R3 camera.  So, the big question is does Canon actually made a stacked CMOS Sensor? or are they getting it from Sony?
DCwatch websites investagtes more on this
At the time of the announcement of the development of Canon "EOS R3" , Canon revealed that the back-illuminated stacked CMOS sensor to be mounted on "EOS R3" was developed in-house, and Canon in the United Kingdom went one step further and said that it was "in-house design and production". It was posted. However, at this point, if you look at the "EOS R3" page of Canon in the UK, the word "in-house production" has been completely deleted. Design → Development and expression changed.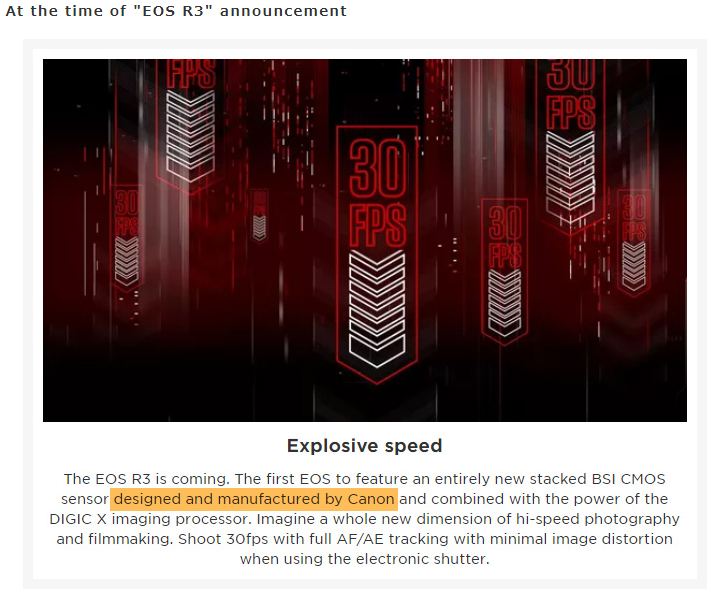 "EOS R3" As of April 24 Deleted the wording of in-house production Changed the expression from design to development, Take a look at the screenshot below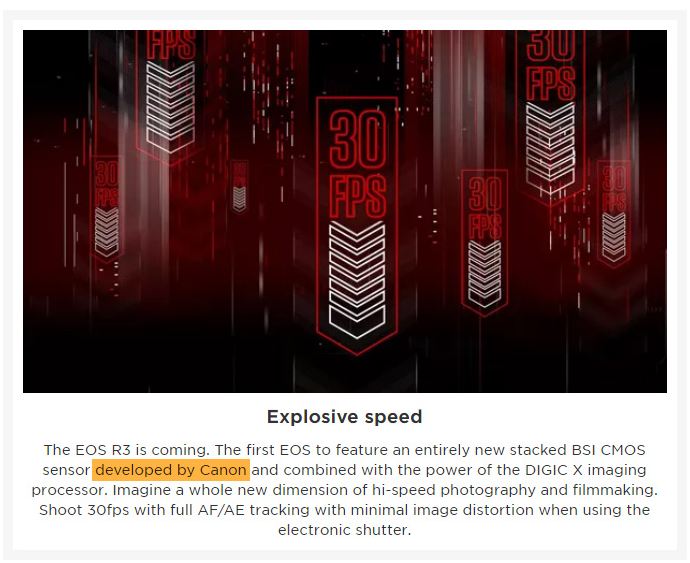 We do know Canon 1″ inch uses Sony sensor in their G-Series compact cameras. Although they never shared DPAF details with Sony, that's why Canon G7X Mark III despite using Sony 1″ BSI CMOS sensor doesn't do DPAF (uses contrast-based AF for focus only). If Canon EOS R3 camera uses a BSI CMOS Stacked DPAF sensor then for sure it will become a class-leading camera undoubtedly.  And in near future, we will also have a Canon G7X Mark IV camera with a 1″ DPAF Stacked BSI CMOS Sensor.
Get LIVE RUMORS –> FACEBOOK | TWITTER |  INSTAGRAM to get live news + Canon rumors 24X7